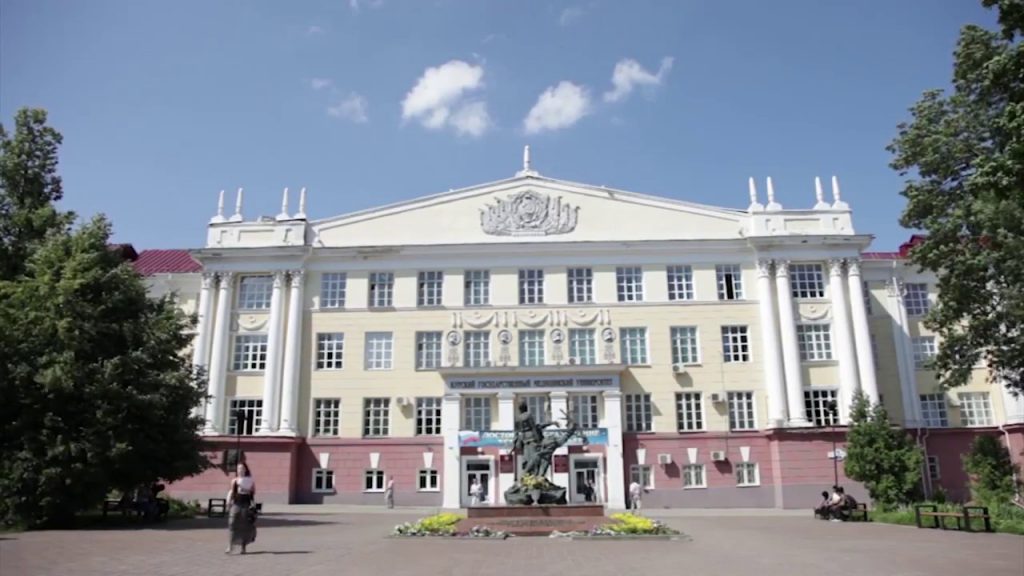 The University comprises the following structural subdivisions:
1.14 faculties, 67 departments.
2. Consulting and diagnostic center.
3. Research Institute of Ecological Medicine.
4. Teaching and auxiliary subdivisions: editorial and publishing department, centre for information technologies of teaching, teaching and methodical administration, Central methodical Council.
5. Administrative subdivisions: Academic Council of the Univeristy, the Univeristy administration, dean's offices, interfaculty boards, student clerical office, staff administration, patent group, scientific and medical information department, research sector,departments of post-graduate training and clinical specialization, economical activity administration, administration for international relations and other auxiliary department. Socio-scientific subdivisions are also available at the University: Central problem commission, scientific problem commissions, thesis councils, young scientists' council, Student scientific society.
The Univieristy provides training in 10 specialties: General Medicine, Pediatrics, Medico-Prevention Management, Stomatogy, Pharmacy (full-time and correspondence course), Clinical Psychology (full-time training), Nursing (full-time and correspondence training), Social work (full-time training and externship), Economics and Management at an Enterprise of public Health (full-time and correspondence training, externship), Biotechnology (full-time and correspondence training).
Kursk Medical University is ranked as one of the 10 best Russian Medical Universities. KSMU was the first University in Russia to Conduct Medical program fully in English.
Date of Foundation : February 1935
Type of Institution : State.
Courses taught In English Medium : All courses at the Pre-university coures, Medical, Pharmaceutical and Stomatological (Dentistry) Faculties.
Total number of student in KSMU : 5000 Students
International student : About 1200 from mour than 35 countries.
Academic staff 650 lecturers with 70% holding PhD or equivalent 92 professors holding D.Sc
Class size : 6 to 12 students in one group (depending on the course)
Dear Friends,
On Behalf of the staff of the Kursk State Medical University, I invite foreign students to join our University. We are one of the leading Medical Universities in the Russian Federation having best experience of teaching and training in different faculties of the University in Russian Medium as well as in English Medium. Our open admmission policy makes it possible for young people of any age, back-ground and nationality to study at the Kursk State Medical University.
You are warmly Welcome!
Prof. A.I. Lazarev Rector,KSMU
Class Room
Training of students and interns is carried out in compliance with the recent achievements in world science and technology and application of upto-date diagnostic equipments. Computers are being increasingly used for research work and data processing. The students are involved in research work as an Integral part of their studies, write term papers and graduation thesis. They participate in student scientific societies. Capable students are trained according to special programs.
Staff of the University
The scientist of the University execute a great amount of treatment diagnostic and consulting work in different clinics of the city and region. Many specialists of the University are well-known for their contribution to practical and functional medicine in our country as well as abroad. They are members of various National, European and International scientific association and societies (Professor Zavjalov A.V . – Corresponding member of RAMS, Professor Mjasnikov A.D., Professor Laskov V.B.). There area number of scientific laboratories successfully functioning at the University (laboratories of – electro-physiology, Biotechnology, Psycho-somatics, Immunofermental Diagnostics, Clinical Immunology, Medical Genetics, Drug standardization).
There is a Scientific Research Institute of Ecological Medicine in the structure of KSMU. The scientific center of there academies were founded on the base of this Institute namely: the Central Black Earth Region Center of the Academy of Natural Sciences, of the Academy of Natural Sciences, the department of the International Academy of Informatization and the Central-Black Earth Region Centerof the Russian Academy of Medical Sciences.
Laboratory
Annually more than 500 students are admitted to 11 faculties of the University:
medical faculty
pharmaceutical faculty
faculty of nursing
faculty of economy and management of Public Health faculty of stomatology
faculty of biotechnology
faculty of medicine and prophylaxis
faculty of post diploma education
faculty of foreign students training (Russian and English Medium).
There is also a medical and pharmaceutical college in the structure of the KSMU (incornplete higher education).
Operation Room
Post-diploma education is carried out at the courses of post-graduate and clinical studies in the following specialties:
General Medicine
Pharmacy
Nursing
Social Work
Economy and Management in Public Health
Biotechnology
Obstetrics and gynecology Otolaryngology
Internal Diseases
Paediatrics Infectious diseases Psychiatry Roentgenology
Traumatology and Orthopedics Legal Medicine
Physiology Surgery Allergology and Immunology
Clinical Pharmacology
Pharmaceutical Chemistry
Drug Technology
Pharmacy Business
Stornatology.
We welcome students from Abroad. Our open Admission policy makes it posible for young people of any age, background and Nationality km study at the KSMU. We invite you to join one of the leadin• medical higher institution in Russia. We believe you will have productive and rewarding years of training at the KSMU.
Kursk is one of the oldest cities of Central Russia not far from Moscow. It is a large Industrial, Cultural and Scientific center. The avearage temperature in summer is +20C, in winter -8C. The population of the city is more than 600,000.