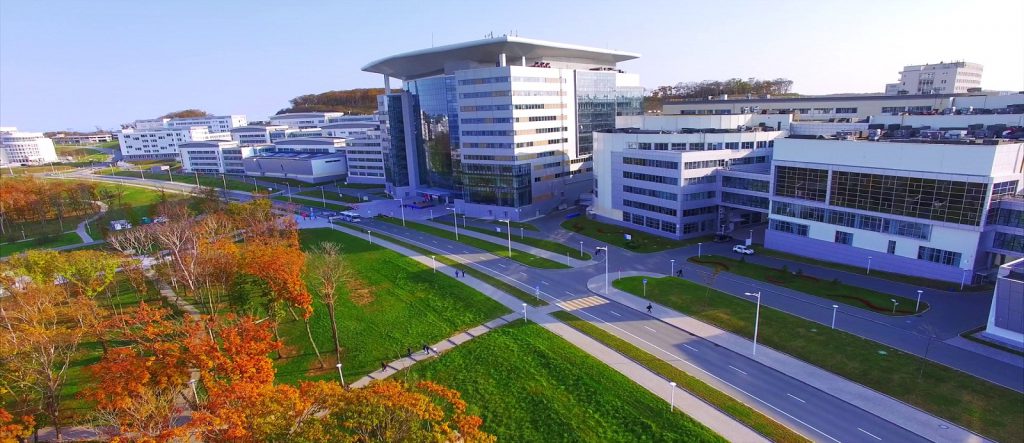 Far eastern Federal University (FEFU) is one of Russia's leading centers of education and science, known throughout the region for its unique campus and world-class infrastructure. In our new facility, we strive to combine the traditions of the classical university with innovation across disciplines.
FEFU has a rapidly growing international faculty, and has recently doubled the number of incoming foreign students, who come to us from the USA, Japan, China, Korea, India, Vietnam, Malaysia, Philippines, Germany and other countries.
The new campus of Far Eastern Federal University is considered one of the best not only in Russia, but among new campuses around the world. Located on Russky (sand in the city of Vladivostok, the campus is surrounded by woodlands and faces a pristine stretch of the Pacific coast. As a residential learning community, its facilities are comfortable, light, welcoming and safe.
Our focus at the FEFu Russky Island campus is international educational programs and research, offering young scholars access and a world-class faculty, specialized equipment and cutting-edge technology. Educational programs are supported by facilities to help students reach their academic, leadership and creative goals. Combined, these aspects create the conditions to educate a new generation of motivated and innovative young people, conscious of the importance of geopolitical changes.
We welcome you to far Eastern Federal University, where the location and modern campus combine with the rich Russian cultural tradition. A FEFU education is not only prestigious and focused on contemporary issues, but engaging. Everyone who comes to us to learn and work at FEFU finds new knowledge and new friends. This is the place for talented young people.
FEFU Medical Center
FEFU Medical Center (hereinafter FEFU MC) provides specialized medical care. FEFU MC staff includes about 200 doctors some of whom were invited to work from the other parts of Russia and from abroad.
The total area of FEFU MC is approximately 53,000 ma.
FEFU MC uses medical equipment produced by leaders of the medical industry such as Siemens, Philips, Draeger, Karl Storz as it provides specialized high-technology medical assistance, diagnostics and rehabilitation for both Russian and international patients.
FEFU MC incorporates 14 medical departments that specialize in neurology and neurosurgery, orthopedics, women's health, otorhinolaryngology, urinology, general surgery, internal medicine, rehabilitation, interventional cardiology, child health, intensive care unit.
Operation Unit has nine state-of-the-art operating rooms, one of which uses a unique DA VINCI surgery robot that can be operated by surgeons remotely. Also Operation Unit specialized operating rooms are equipped for open cardio surgery, X-ray controlled vascular, cardio and neuro manipulations, orthopedic surgery and neurosurgical procedures, and emergency shock treatment.
Patient diagnostics is conducted by Diagnosis Center, Laboratory Diagnosis Center and by Radiology Center that uses Positron-Emission Tomography (PET/CT) and 3Tesla MRI scanner. Biomedical testing is an important part of operational work of FEFU MC. FEFU MC has a strong partnership with FEFU School of Biomedicine and Pacific State Medical University. Together these two large university develop and test new technologies of medical treatment and diagnostics, and teach future experts in the medical field.
The mission of the FEFU School of Biomedicine is to promote integration of modern life science achievements with medical education and medical practice. The School of Biomedicine brings together an international team of lecturers, scientists, and highly-skilled doctors with broad clinical practice.
The FEFU School of Biomedicine is recognized by the WHO and QS World University Rankings.
The School of Biomedicine is situated side by side with the FEFU Medical Center, one of the most advanced medical facilities in Russia with the state-of-art equipment and broad possibilities. The School and the Medical Center are united in a single structure the FEFU Medical Cluster, and work in close collaboration as an integrated team. FEFU Medical Center is a multipurpose medical organizationof a full cycle, including all necessaryfacilities: diagnostic facility, research labs,clinic and hospital, and rehabilitation center, providing all necessary medical assistance and care.The Medical Center is especially proud with its highly-advanced neurosurgery and cardio-vascular facilities.
Students of the School of Biomedicine acquire and perfect their practical skills under the direction of Medical Center's best experienced doctors. There is a well-established educational communication between students, professors and doctors for example, open weekly seminars organized by the head doctor of the hospital.
In the School, there are several research groupsspecializing in various fields of biomedical research molecular and cell medicine, pharmacology and drug discovery. Laboratories of the School of Biomedicine have the most advanced scientific and diagnostic equipment available, which offers unparalleled possibilities to perform cutting-edge research on a highest level.Students have a possibility to take an active part in the actual research work under supervision ofthe School's academics, participating in major international research projects, conducted in collaboration with the top universities and research centers of Europe, Asia and America, including the University of Edinburgh (UK), the University of Lausanne (Switzerland), University of California, San Diego (USA), National Cancer Institute of NIH (USA).
Students of 18 different countries (what is 40% of all students on medical programs) have already chosen the FEFU School of Biomedicine and make progress in studying.
VLADIVOSTOK
Vladivostok: for a century and half, this has the most famous and picturesque European city in the eastern part of Russia. Since its founding Vladivostok has been associated with the romance of traveling and the political significance of being the Russian Empire's eastern outpost on the Pacific. Long the home to fishermen and sailors, scientists and machinists, Vladivostok today is the focus of new economic and cultural development in Russia, a city of opportunities and prospects made stronger by transnational connections. Vladivostok is not just a beautiful and attractive seaside place. It is the largest Russian port on the Pacific coast, a place of regular meetings and a diversity of languages, cultures and religions. As the transportation, industrial, cultural and scientific center of the Russian Far East, Vladivostok is a gateway to the Asia-Pacific region.
But above all, Vladivostok is a city of young, active, educated and creative people. And you, as a current applicant to Far Eastern Federal University, have the unique opportunity to join in this community. At FEFU, you will spend your student days studying and living on the edge of the Pacific, in the modern, comfortable campus built on Russky Island, Just is a short trip on a striking new bridge to downtown Vladivostok.
On its Russky Island campus, Far Eastern Federal University offers both a contemplative natural setting among the bays, beaches, and woodlands of the Pacific coast while also being close to Vladivostok's rich cultural life. As a student at FEFU, you will enjoy classes in the new, state-of-the art facilities, surrounded by a beautiful landscape. Far Eastern Federal University offers you the space to combine an excellent education and diverting leisure activities with the ability to connect with your peers and pursue your dreams.
Vladivostok – Russia – FEFU: is not just an interesting point on the map. It's a place where you can succeed!
We are excited to welcome you at the website of Far Eastern Federal University, one of the leading federal universities of Russia.
FEFU is the bearer of traditions of the Russian classical culture, science and education. Far Eastern Federal University has its origins in 1899 at the time when the Oriental Institute was founded in Vladivostok.
Today FEFU is the only classical university in Eastern Russia. In incorporates Schools with generations-old traditions and areas of research that form the core of our intellectual base.
One of the FEFU's advantages is its geographic location in the center of the Asia Pacific region, which is now one of the most dynamically developing parts of the world. This place is the second pole of a world civilization, which includes the leading counties of the globe, such as China, the United States, Japan, India and many world-famed metropolitan cities, such as Singapore, Hong Kong, Sydney and Seoul.
Being a link or a cultural bridge between Russia and this part of the world remains one of the FEFU's main objectives. This is the reason why our University is not only a pathway to your professional future, but also a road into the future of the entire country, where all motivated, hardworking and talented young people will find their rightful places!
We are sure that through combining our endeavors we shall be able to achieve our shared objectives.